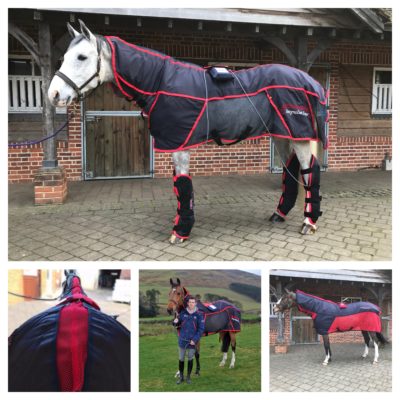 Exciting News!! Here at FMBs Therapy Systems we are again looking to support two chosen riders in their 2019 competitive campaigns!!
Whether you are a weekend rider looking to improve your results, a dressage enthusiast, an up and coming event rider, show jumper or showing star, the application is open to all!
We are offering two lucky people full sponsorship for 12 months in the form of your very own Activo-Med Pulsed Electromagnetic Therapy Rug (to learn more about the rugs and other therapy products please visit www.fmbs.co.uk). Along with this you will receive branded clothing, a baseball cap/bobble hat and a discipline specific saddle pad, plus a discount on any additional equipment you may wish to purchase or hire.
All you need to do to apply is send us (in no more than 300 words) a little information about yourself and your horse(s); age, county you live in, what you do competitively with your horse(s) and your equestrian goals for next year. We would also like to know why you would like the use of an Activo-Med rug and why you think you would be the ideal FMBS Therapy Systems sponsored rider. Applications should be sent via email to info@fmbs.co.uk by midnight on 1st March  2019. The shortlist will be announced after 8th March 2019. Those on the shortlist will be asked to provide a video entry of why you think you should win, which will be put to the vote to finalise our winners.
We look forward to receiving your applications!
Terms & Conditions
Entries to be sent to info@fmbs.co.uk
Sponsorship only open to riders based in the United Kingdom. Entrants must be 16 years old or over. Employees of FMBs Therapy Systems, agents and their families are not eligible to enter
No purchase necessary. Purchase does not enhance chance of winning
Void where prohibited
Only one entry per person
The prize: Use of an Activo-Med Therapy Rug for 12 months (rug model to be decided by FMBs) and branded clothing to include; body warmer, baseball cap or bobble hat, discipline specific saddlecloth
The winner's name and state will be posted on FMBs Therapy Systems' website and social media pages. The winner agrees to participate in any reasonable publicity arranged by FMBs or its agents including the filming of their training, competitions and short interviews for videos and photos
The winners will be expected to keep FMBs Therapy Systems up to date with their training, competition results and general relevant news during the sponsorship. This can be done via social media, email and/or in public blog posts
The winners will allow FMBs Therapy Systems to publish and share all the information sent to them regarding updates with their training, competition results and relevant news
The prize is as stated and is non-transferable
First round entries will close at midnight on 1st March 2019. A short list will then be selected by the FMBs team based on suitability and usefulness of the prize
Riders on the short list will be asked to provide a short video clip and overview of why they think they should win. This will then be put to public voting and the two winners selected
Potential candidates will be contacted during March so please provide up to date contact details
It is the winner's responsibility to provide FMBs with the relevant details to ensure the prize is sent to the correct place. Items will be shipped via courier
The rugs will be warranted for the duration of the agreement. Repairs caused by accidental damage or misuse of the equipment whilst in the care of the sponsored rider will be charged at cost to the sponsored rider
If the recipient wishes to keep the Activo-Med rug at the end of the 12 month sponsorship period a discounted price for purchase will be arranged
The sponsorship will begin once the items have been received. This will be within one month of the competition winners being announced
By entering the competition entrants agree to be bound by these terms & conditions and by the decisions of FMBs Therapy Systems, which are final in all matters relating to the promotion. No correspondence will be entered into
FMBs Therapy Systems will not be responsible for incomplete, illegible or lost entries. Proof of submission of entry is not proof of receipt of entry
FMBs Therapy Systems reserves the right at it's sole discretion to disqualify any person it finds to be tampering, or to have tampered with, the operation of the competition or to be acting in violation of these terms and conditions
Promoter: FMBs Therapy Systems, Pyatts Farm Offices, Pyatts Farm Lane, Lane End, Bucks HP14 3NW